Gerald Saul
Films Writing Curating Solo Shows Art Galleries Contact Links Students Research CV
What's New?
On May 16 I will participate in a Dunlop Art Gallery IPUF edition of their "Quick and Dirty" artist talks at the Creative City Centre.
On April 22 Eyes of Sorrow Moon was shown at the Southern Arizona Independent Film Festival in Wilcox, Arizona. (winner, best performance).
On April 15, "Testament of Frankenstitch" was screened at the Whoops Film Festival in New York City where it was presented with two "awards", namely "Worst Screenplay" and "Worst Acress".
On March 17 I presented and discussed "Gun Crazy" at the Lifelong Learning Centre film class in Regna.
On February 24 I presented and discussed the classic film "A Day at the Races" to the Lifelong Learning Centre in Regina.
8 Fest commissioned a super-8 film for their 2017 festival. I premiered Sock-Vile Mystery Theatre, Episode 13 in Toronto, January 27-29.
In January, "Eyes of Sorrow Moon" screened at the Pedro Munoz Ayuntamiento film festival in Spain.
From January 16 to January 29 I had four short super-8 films included in the Saskatchewan Gothic program at the Dunlop Art Gallery, curated by the Strandline Collective.
Between October 6, 2016 and January 15, 2017 my film Eyes of Sorrow Moon was on display in the Dunlop Art Gallery's Mediatheque.
... "What's Old - 2016, CLICK HERE
..."What's Old - 2015, CLICK HERE
..."What's Old - 2014, CLICK HERE
..."What's Old - 2013" CLICK HERE
I am a film and video artist based in Regina, Saskatchewan, Canada and am a professor in the Department of Film at the University of Regina. I was the head of that department from 2004-2007. I have worked in media for many years, primarily as a 16mm experimental filmmaker and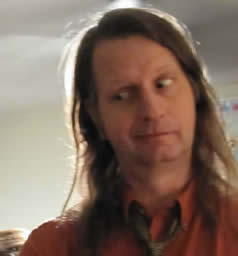 animator. My work has been increasingly about memory and identity as my body of work is slowing creating a self portrait. My early work is concerned with a questioning of the process of art making while my later works accept that art making and living are closely tied so to question the value of one is to question the value of the other. Naturally my later 16mm films, especially my "Toxic", Modern", and "Grain" series' are highly process oriented as well as being my most personal films to date. I have lately returned to satire with my ironic look at Modern art in my fragmentary and degraded "Modern" films and with my Mr. Saul persona within a grouping of narrated home-movie style super-8 films.
In 2016, I was the subject of a 7 week retrospective at the Art Gallery of Regina, curated by the Strandline Collective. The Anecdotal Evidence catalog was written by Ken Wilson and designed by Brent Pylot.
At the university, much of my new creative research has been digitally based, investigating aspects of media convergence, how the nature of the traditional film image changes within the digital environment. I am also highly interested in 19th century technologies which led up to cinema and feel that through simulating some of these approaches, new directions in the image as an art form may emerge. I also continue to use digital cameras and devices to explore 3D graphics and non-traditional narrative storytelling. Much of this work was conducted through the New Media Research Laboratory (NMSL) of which I was a co-investigator until its closing in 2015.
In 2014, the late Paul Crepeau, then a student in the Film program at the University of Regina where I teach, wrote an essay (Creativity and Conundrums) about me for a course on Canadian Cinema for my colleague Dr. Christine Ramsay.
In the notes for my 2003 screening in Edmonton, Troy Rhoades (now "Dr. Rhoades") described my work in terms of economy of scale, which I've always felt was important.
I have been a member of the Saskatchewan Filmpool Cooperative since 1984. I am frequently on their Board and have been the president on four occasions.