Who is GERALD SAUL?
(NOTE: see "LINKS" page to locate more information on the orgniizations and affliations mentioned here).
I am a film and video artist based in Regina, Saskatchewan, Canada and am a professor in the Department of Film at the University of Regina. I was the head of that department from 2004-2007. I have worked in media for many years, primarily as a 16mm experimental filmmaker and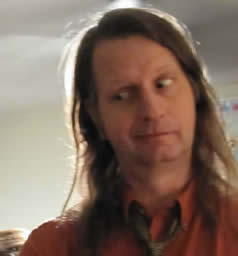 animator. My work has been increasingly about memory and identity as my body of work is slowing creating a self portrait. My early work is concerned with a questioning of the process of art making while my later works accept that art making and living are closely tied so to question the value of one is to question the value of the other. Naturally my later 16mm films, especially my "Toxic", Modern", and "Grain" series' are highly process oriented as well as being my most personal films to date. I have lately returned to satire with my ironic look at Modern art in my fragmentary and degraded "Modern" films and with my Mr. Saul persona within a grouping of narrated home-movie style super-8 films.
At the university, much of my new creative research has been digitally based, investigating aspects of media convergence, how the nature of the traditional film image changes within the digital environment. I am also highly interested in 19th century technologies which led up to cinema and feel that through simulating some of these approaches, new directions in the image as an art form may emerge. I also continue to use digital cameras and devices to explore 3D graphics and non-traditional narrative storytelling. Much of this work was conducted through the New Media Research Laboratory (NMSL) of which I was a co-investigator until its closing in 2015.
I have been a member of the Saskatchewan Filmpool Cooperative since 1984. I am frequently on their Board and have been the president on four occasions.
ACADEMIC CV, updated May 2017. PDF
WRITING ABOUT ME OR ABOUT MY WORK
In 2017 I was included in a group exhibition at the Dunlop Art Gallery: Meet in the Middle, Saskatchewan Gothic
In 2016, I was the subject of a 7 week retrospective at the Art Gallery of Regina, curated by the Strandline Collective. The Anecdotal Evidence catalog was written by Ken Wilson and designed by Brent Pylot.
In 2014, the late Paul Crepeau, then a student in the Film program at the University of Regina where I teach, wrote an essay (Creativity and Conundrums) about me for a course on Canadian Cinema for my colleague Dr. Christine Ramsay.
From DAG Volumes: No. 2 (2013) ISSN: 1929-9214 article by Christina Stojanova "The Surreality of Saskatchewan Puppets", page 52 (highlighted section)
In the notes for my 2003 screening in Edmonton, Troy Rhoades (now "Dr. Rhoades") described my work in terms of economy of scale, which I've always felt was important.
VIDEOS WHERE I PROMOTE THE UNIVERSITY OR OTHER ACADEMIC PROJECTS
VIDEO (discussing univeristy teaching)
VIDEO (discussing university graduate supervision)
VIDEO (about French science fiction conference)
PRESS
July 25, 2016. Regina Leader Post, "30-plus years of film celebrated in Anecdotal Evidence" by Ashley Martin
August, 2016. Regina Prairie Dog, "Saul's Long Shadow: A Regina film and arts icon gets his turn in the spotlight" by Gregory Beatty
2016, Caligari Project (co-creative director) press package