Rerun: The Misadventures of Canister, the Robot from Belion 7
"Canister Loses His Head", photo-collage by Gerald Saul, 2014
A fourth set of Canister the Robot artist trading cards.
Front: this is folded to fit the format. When unfolded, it is 7 inches wide and contains a pair of images. Text, as traditionally with stereoscopic images, is on the bottor of the right eye view. The cards 1-6 of 7 were made for the 11th Regina Artist Trading Card Anniversary display in 2014.

Back of the dard contains a glued in insert as follows:
Canister Loses His Head, series 4 in the Misadventures of Canister the Robot from Belion 7 by Gerald Saul. To view this card in the third dimension, unfold it and insert it into a stereoscopic viewer (designed by Oliver Wendell Holmses in 1860) as pictured. There are seven cards in this series, six of which are presented in this exhibition.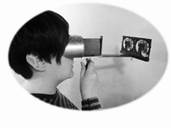 COMIC 1 Canister the Robo
COMIC 2 Canister and the Big Bust
COMIC 3 The Inevitability Syndrom
COMIC 4 Canister and the Perfect Fix
COMIC 5 Hide and Seek and Destroy