.... and here is what some artists close to me think I look like...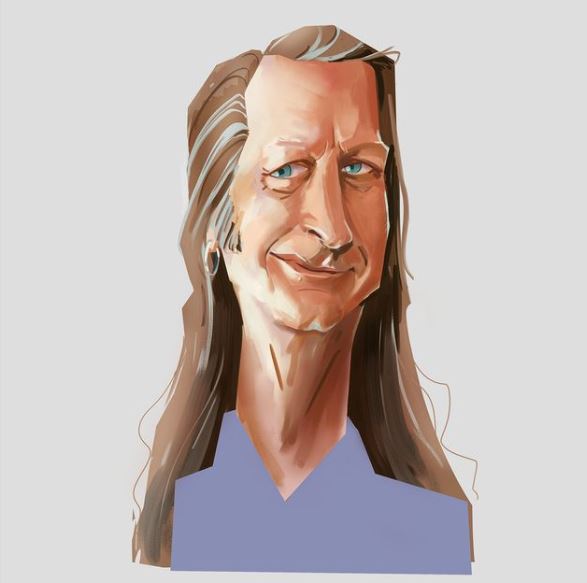 Digital drawing of Gerald Saul by graduate student Masoud Bahmani in 2021.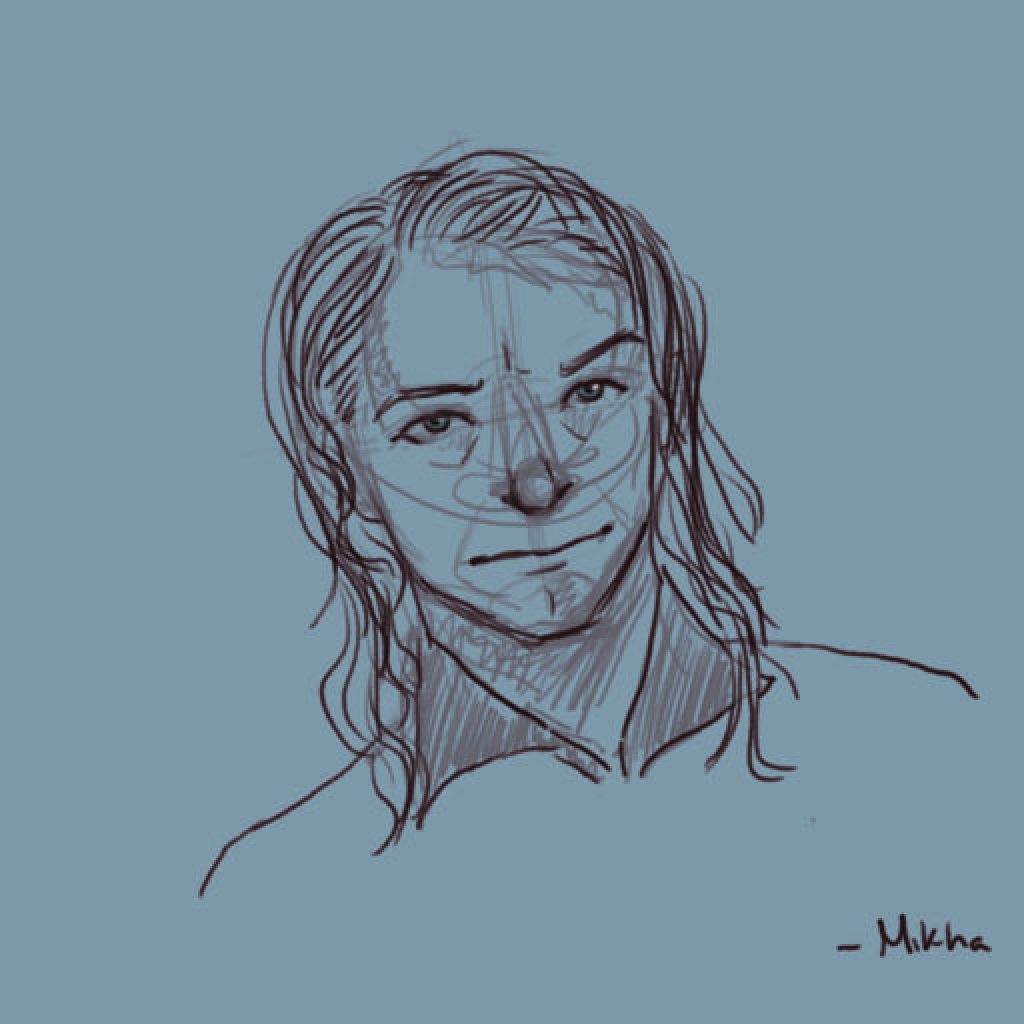 Drawing of Gerald Saul by Mikha Aguilar during a remotely taught animation course, 2021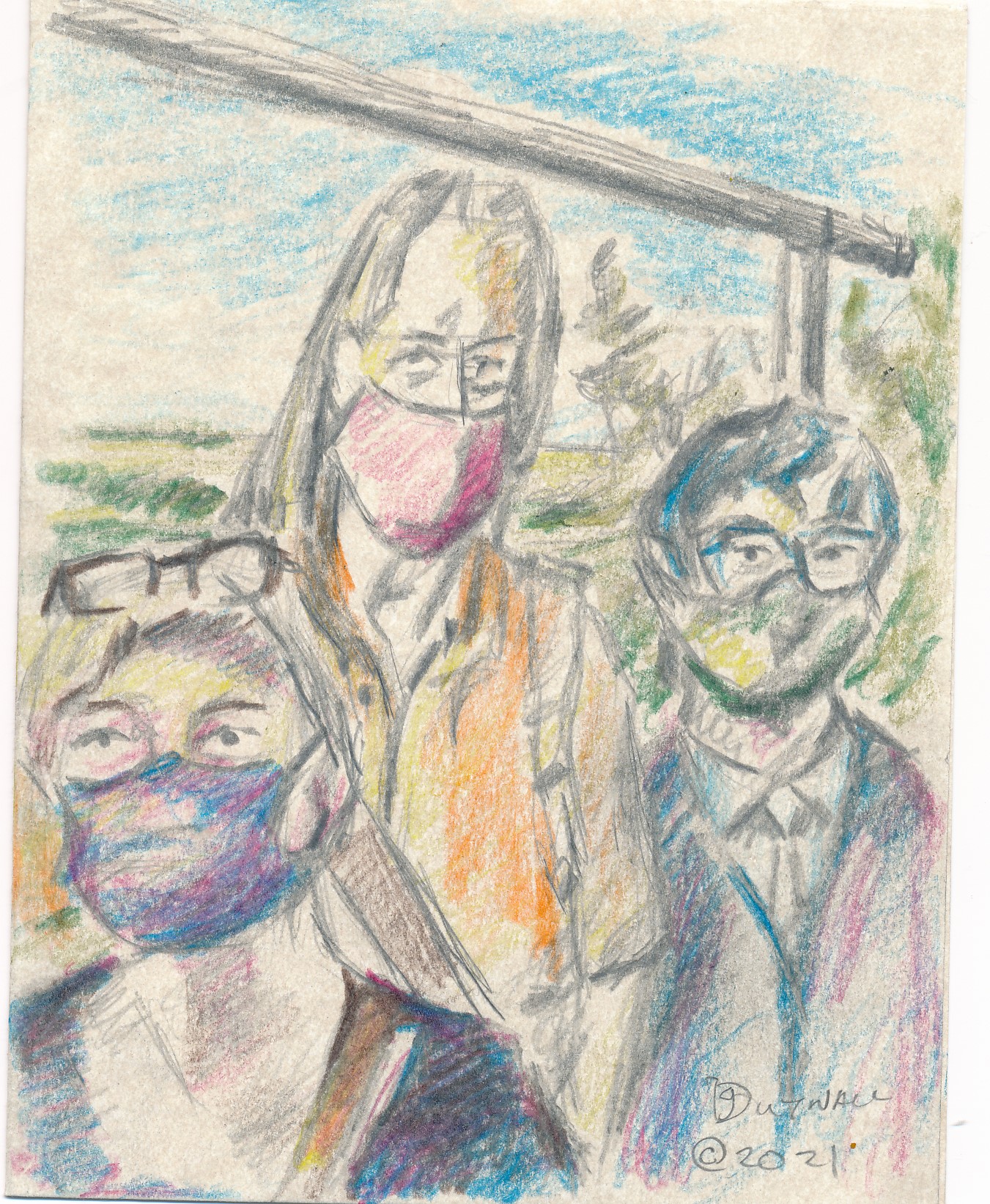 Drawing of Margaret Bessai, Gerald Saul, and William Bessai-Saul in 2021 by Grant Dutnall.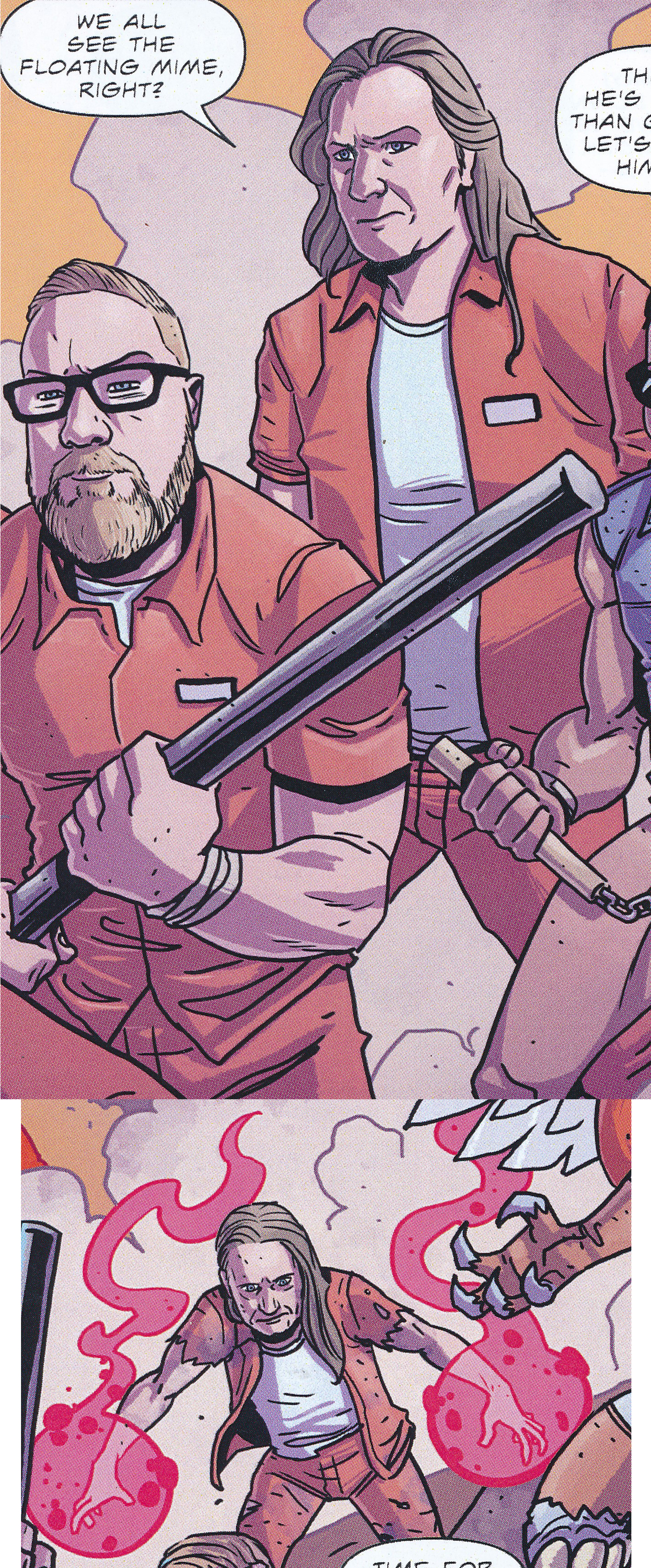 Gerald Saul as unnamed powered villain in Lowell Dean's comic "Atomic Victory Squad" #2 drawn by Javier Martin Caba, 2019.
Gerald Saul and June Madeley at the Utopia Cafe portrait drawn by Roger Ing ("Rogerism"), 1993.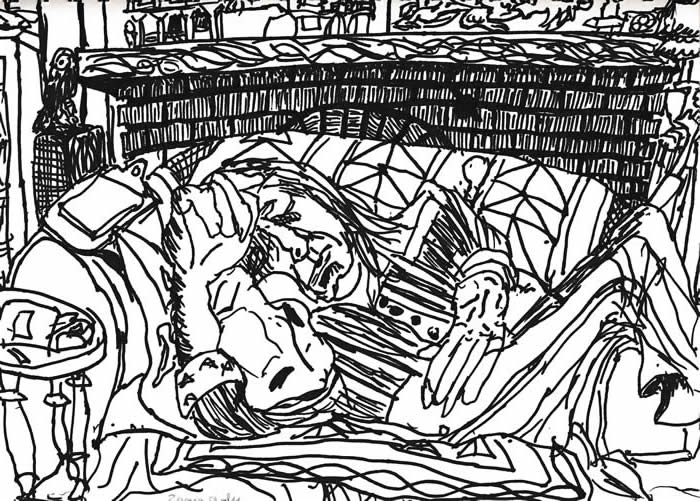 In 2017, my son William drew me napping on the couch in front of the fireplace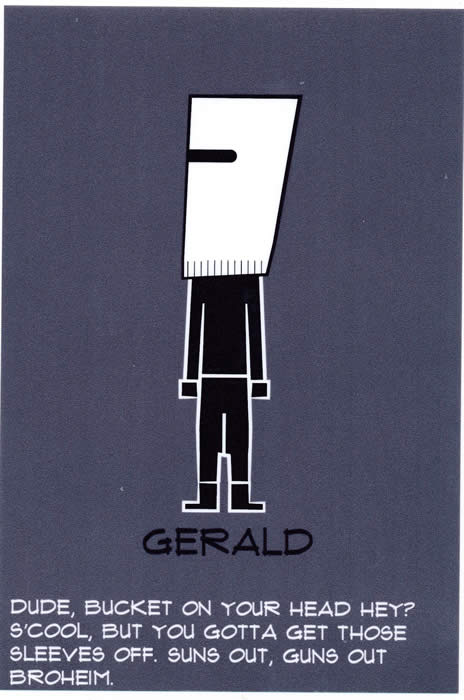 As part of the rewards for crowd funding "Space Bros", Geremy Lague drew Gerald as Canister in 2017.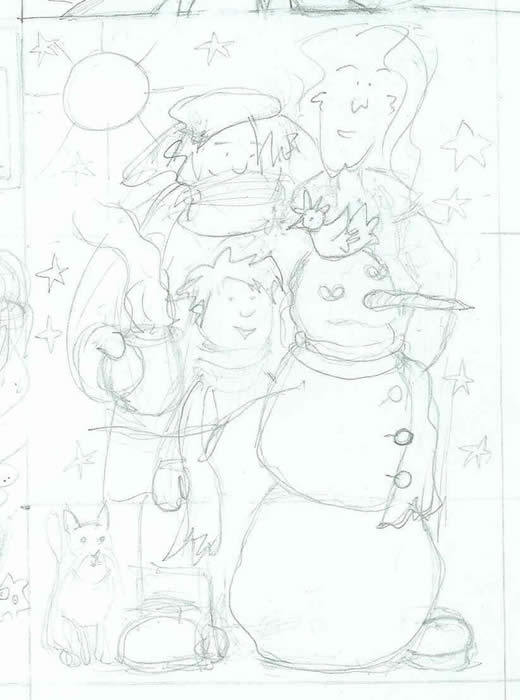 Margaret Bessai pencil drawing of our family (I am in upper right), 2010.
Gerald Saul by Pukka-T (Shane Kurenoff) in late 1980s.
Another Pukka-T (Shane Kurenoff) drawing, this one with Gerald Saul wearing a Screaming Banana t-shirt for an unproduced project about Regina music called "Flat City".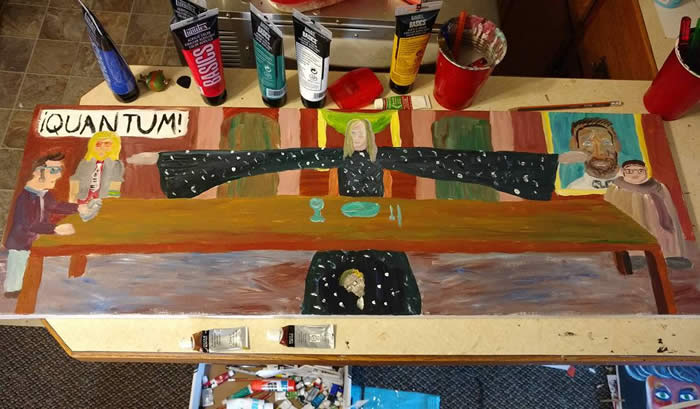 A painting by Stephen Macauley of the characters in Erik Sirke's film"Fragment of Apocalypse". I am the long-armed character in the center.
I don't know who this really looks like, but the woman (Kim) drew it as I stood there at the farmers market in St. John New Brunswick in 2010, so obviously she thought it looked like me.
"A MEAN AND INACCURATE PORTRAIT" of Me and William by Gavin de Lint
Another entirely inaccurate portrait of Gerald Saul and William Bessai-Saul by Gavin de Lint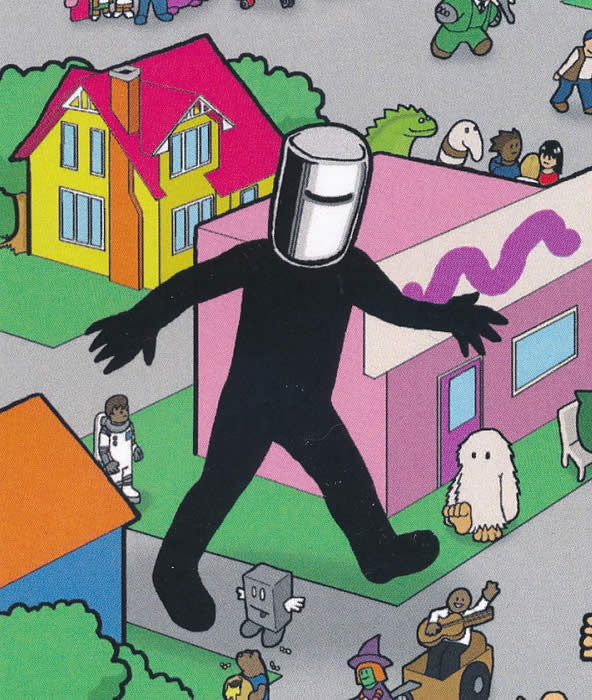 From 2017 Cathedral Festival poster by Allan Dotson featuring me as Canister the Robot.
Self portrait I used on material for my film series "Toxic".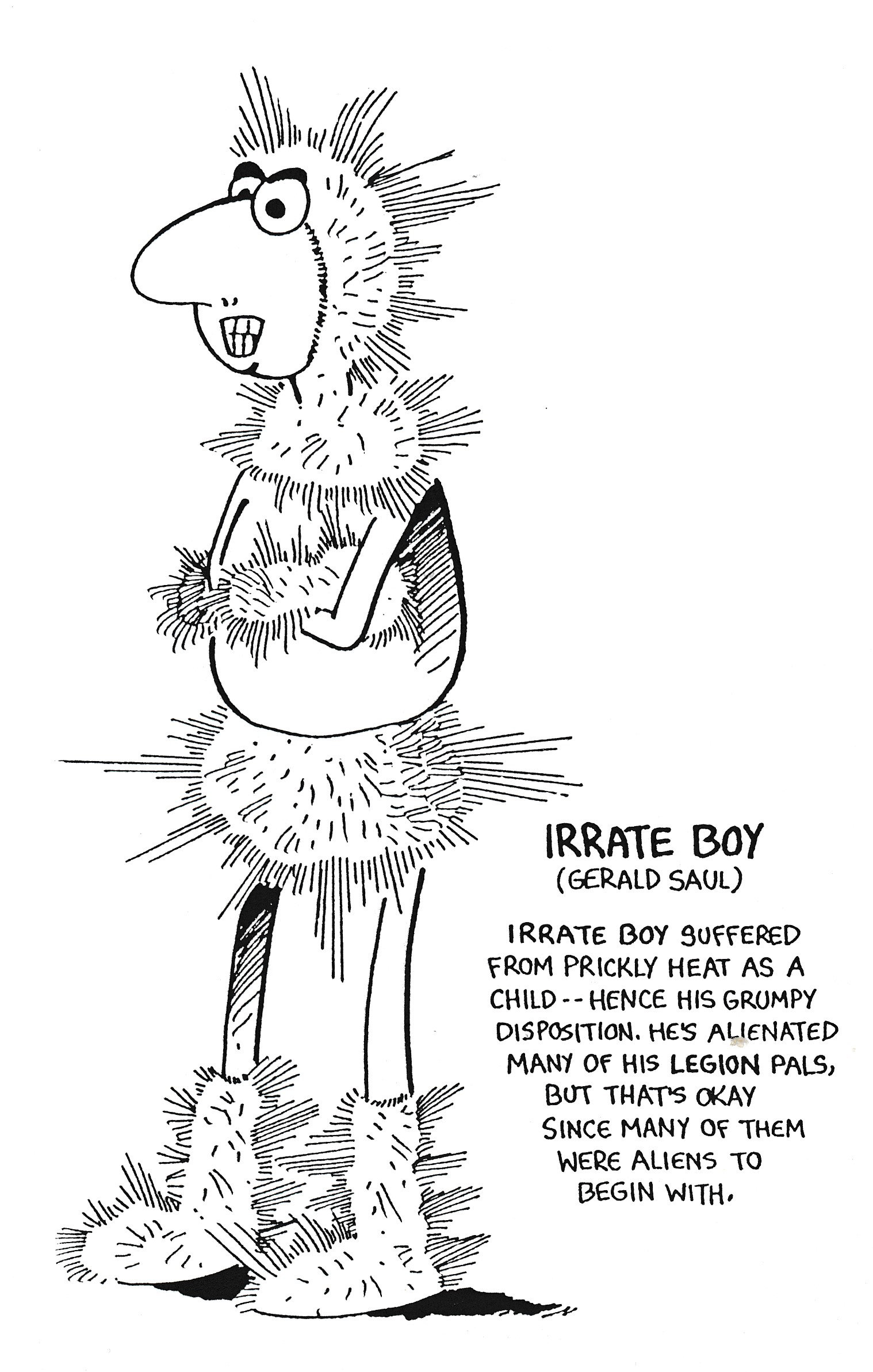 Drawing of Gerald Saul as "Irrate Boy" by Mike Bannon in APA zine "From Hell It Came" part 13, 1986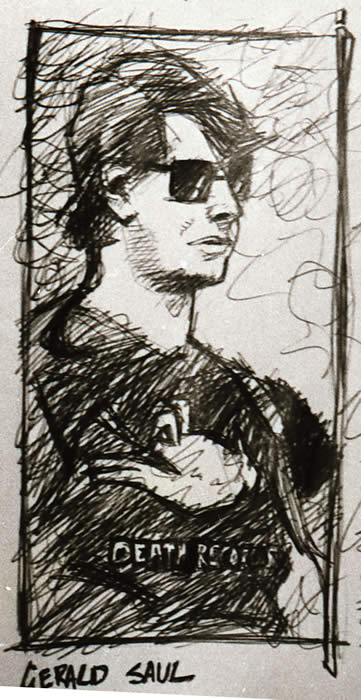 From 1985 during a Galactus APA gathering in Edmonton, drawing by Strawberry Jam comic illustrator Ron Turner.